From Wednesday 26 to Saturday 29 September, SOJADIS took part in the REHACARE trade fair in Düsseldorf. Why? For whom? With whom? We're giving you the lowdown! A retrospective of four intense days of meetings, discoveries and sharing!
What's REHACARE ?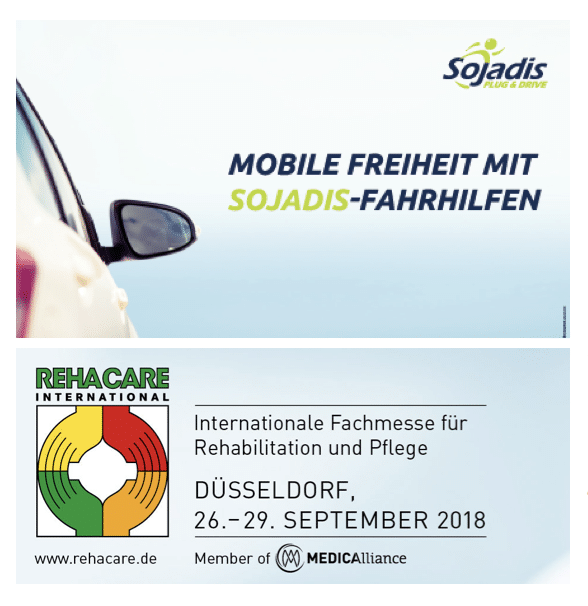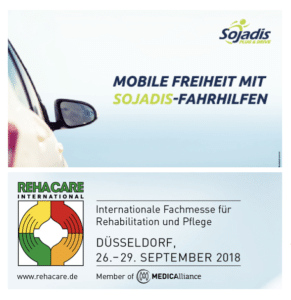 REHACARE in Düsseldorf has been in existence for more than 30 years and over the years has become the leading international and professional trade fair for the care, prevention and inclusion of the elderly and people with disabilities. Once a year, professionals from the various sectors involved meet in Düsseldorf to discover or showcase solutions and innovations in the fields of mobility or daily living aids, ambulant or stationary care equipment, housing adaptations, or accessibility for sports, travel and leisure.
Proof that it has become a major international event is shown by the fact that REHACARE welcomes more than 780 exhibitors from 39 countries, and 39,000 visitors from 70 countries*!
* figures from the 2017 show
SOJADIS: Made in France ambassador in Düsseldorf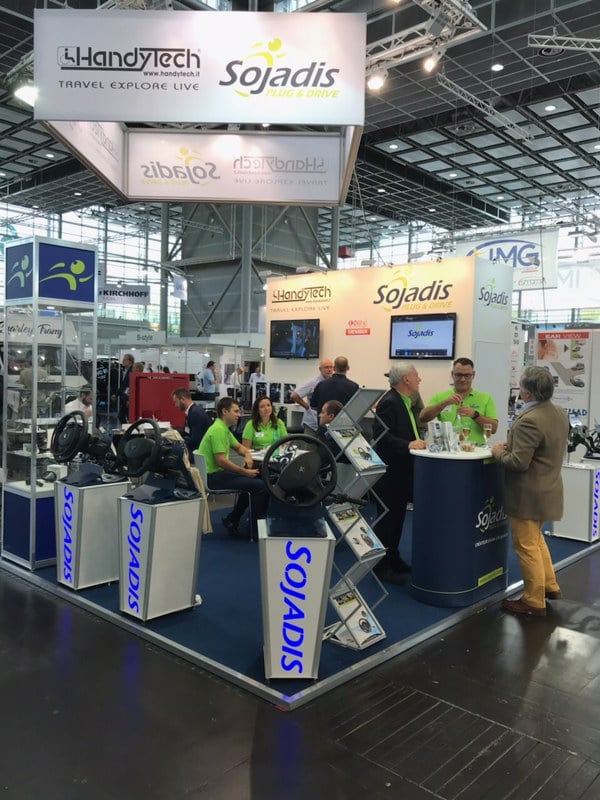 We have been exporting our electronic driver assistance equipment to Germany for the past eight years, so it was a logical decision to take part in this major annual event. Our first few shows enabled us to make our innovations better known in Germany and beyond. Indeed, we were the first automotive equipment supplier — and we are still one of very few worldwide 😉 — to offer electronic driver assistance systems; we therefore had to demonstrate the reliability and safety advantages of our know-how in on-board electronics in the early stages… In short, we had to prove, especially to the Germans, that we — the French — can design and manufacture products at the cutting edge of automotive technology! 😀
A few years and REHACARE trade fairs later, we are very happy to see our driver assistance systems acclaimed by professionals and users from 19 countries around the world! Our LEFTDIS left foot accelerator pedal has become a bestseller in Germany and Europe.
Meet your partners… and meet new ones!
At Sojadis we like to build relationships with our installers and distributors — in France and abroad — based on common values and shared know-how. In this spirit of partnership, once again this year we shared our REHACARE stand with our Italian distributor Handytech and welcomed for a day our installer Költgen, based in Krefeld (40 km from Düsseldorf). We also took advantage of the show to meet our English distributors BAS Vehicle Adaptations and our partners Morice Constructeur and the Gruau Group for a convivial dinner, a vital ingredient for good inter-company relations! 😉
But make no mistake, the whole team present (Pierre, Guillaume, Marion, Jean-Marie and Adeline) worked hard during these four days! There were multitudes of visitors — some of whom had travelled great distances — at REHACARE 2018 and SOJADIS welcomed, met, informed, chatted, and made contacts with 134 companies from 29 different countries!