France's exclusive
manufacturer of electronic driving aids
SOJADIS Équipement offers individuals and professionals a full range of smart and safe driving aids.
SOJADIS Équipement draws on its expertise, capacity to innovate and the dedication of its team members, and today is the first port of call for drivers with disabilities, driving schools, adaptations installers and car manufacturers in France and nineteen countries worldwide.
DRIVING AND DISABILITY

A resolute crusader for the independence and mobility of the disabled, SOJADIS Équipement offers a wide range of 9 driving aids for the disabled motorist that have been developed in collaboration with occupational therapists. The electronic systems embedded in the driving aids make our vehicle adaptations simple, flexible and safe.
DRIVING SCHOOLS

SOJADIS Équipement is France's leading retrofitter of driving school vehicles and is approved and recommended by major automakers including Peugeot, Renault, Volkswagen and Citroën. The company has UTAC (French vehicle certification and approval organization) certification as a "Qualified driving school vehicle adapter" and complies with the latest regulations governing reversible adaptations of vehicles for the driving instructor or learner driver.
the new

sojadis developments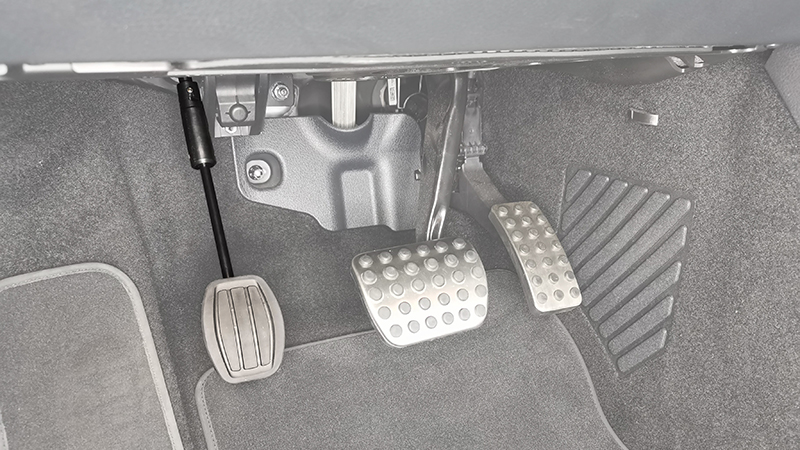 Left foot accelerator, acceleg
Always in search of innovation to guarantee state-of-the-art hand-driving systems, LEFTDIS gives birth to a new generation solution for left-foot acceleration : ACCELEG.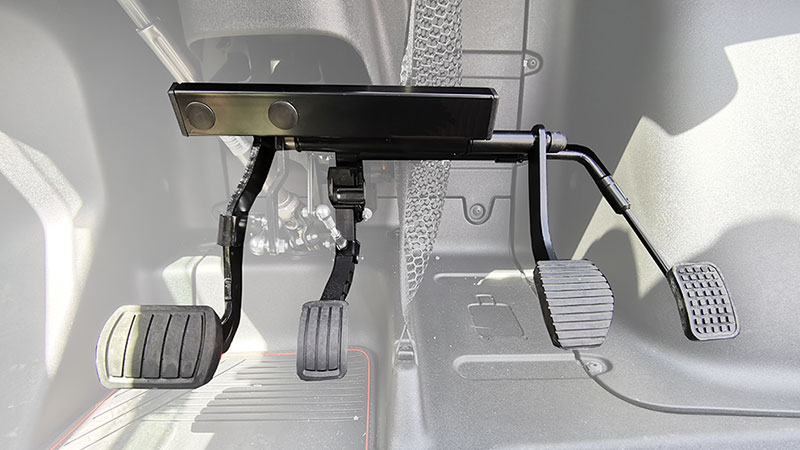 Citroën AMI driving school pedal
Sojadis, the French leader in post-equipment driving school transformation, has developed and manufactured the Citroën AMI driving school pedal board.
Committed to
French industry,
Sojadis is a member of

the French Fab.
A company from the dynamic region of Mauges, in Maine-et-Loire, Sojadis has joined
the French Fab movement
, the standard of French industry.
Sojadis places the values of La French Fab at the heart of its priorities.
>

Innovation with numerous patents (including one European patent) and registered models.

> Permanent modernisation of practices, in particular through digital technology.

> Training and support for teams: DINAMIC+ CCI Pays de la Loire programme in 2022.

> Reducing our impact with the implementation of an ambitious responsible action plan. Sojadis is a member of ADECC.

> The Sojadis range of automotive equipment is distributed in more than 20 countries worldwide.
Our

Solutions

The best vehicle modifications are those that respond perfectly to your needs,
which is why SOJADIS Équipement offers a full range of driving aids !
To replace the right accelerator pedal: take a look at our left foot accelerator pedal or our hand-controls.
To replace the brake pedal : take a look at our manual brake lever developed by our design office.
The acceleration and braking solutions are comfortable, fun and safe. Accelerate and brake with just one hand.
To drive with only the left or right hand: take a look at our centralized steering and control solutions.
To help a driver transfer between a wheelchair and the driver's seat:
take a look at our transfer plate.
If you need a conventional or adapted driving-school vehicle: take a look at our driving school solutions
Sojadis supports you,
in your vehicle adaptation project.
Wherever you are, SOJADIS Équipement can provide advice and support for your disabled driving project through its network of supporting partners.
58 certified installers
across the whole of France.
66 distributors/installers
in 20 countries worldwide (outside France).
163 driving schools
with adapted tuition vehicles.
Innovation
The teams in our design office that specializes in cutting-edge electronics and in our assembly shop (or "lab") conceptualize, develop and test new driving aid devices every day.
Safety
The embedded electronics in our driving aids ensure exceptional reliability and safety. Our industrial excellence makes us one of the very few equipment providers (in the world!) that offers devices capable of communicating with the car, in compliance with the automakers' specifications.
Made in France
We oversee each stage of the driving aid production, from design to distribution and installation. Each aid is subject to strict traceability procedures and tests approved by French and European legislation.
Advice and support
From the outset, we recognized the importance of building a strong network of trained and certified partner-installers in order to keep our finger on the pulse of drivers' expectations and needs. Providing personalized advice and support is of key importance at all our sites – in Jallais, across France and in 19 countries globally.
« Cars change, technologies evolve, but our goal remains the same: to create innovative solutions that make driving easier and safe for everyone. »
Our customers

talk about Sojadis