You are a professional in the car industry and/or services to the disabled?

You are looking for driving aid solutions made in France?
You wish to distribute and install driving school and/or disabled driving equipment that combine simplicity, technical sophistication and safety?
You wish to join a network of enthusiastic and committed professionals?
Join the SOJADIS partner installer network!
I
BECOMING AN INSTALLER  
MEANS … 
joining a network of professionals
recognised for their know-how and soft skills.
enjoy genuine support
for services and products and training in after-sales service.
share knowledge,
expertise and values.
« In France and internationally, our goal is to build up a genuine network of installer partners. Support and training in our driving aid systems are at the heart of our business relationships. »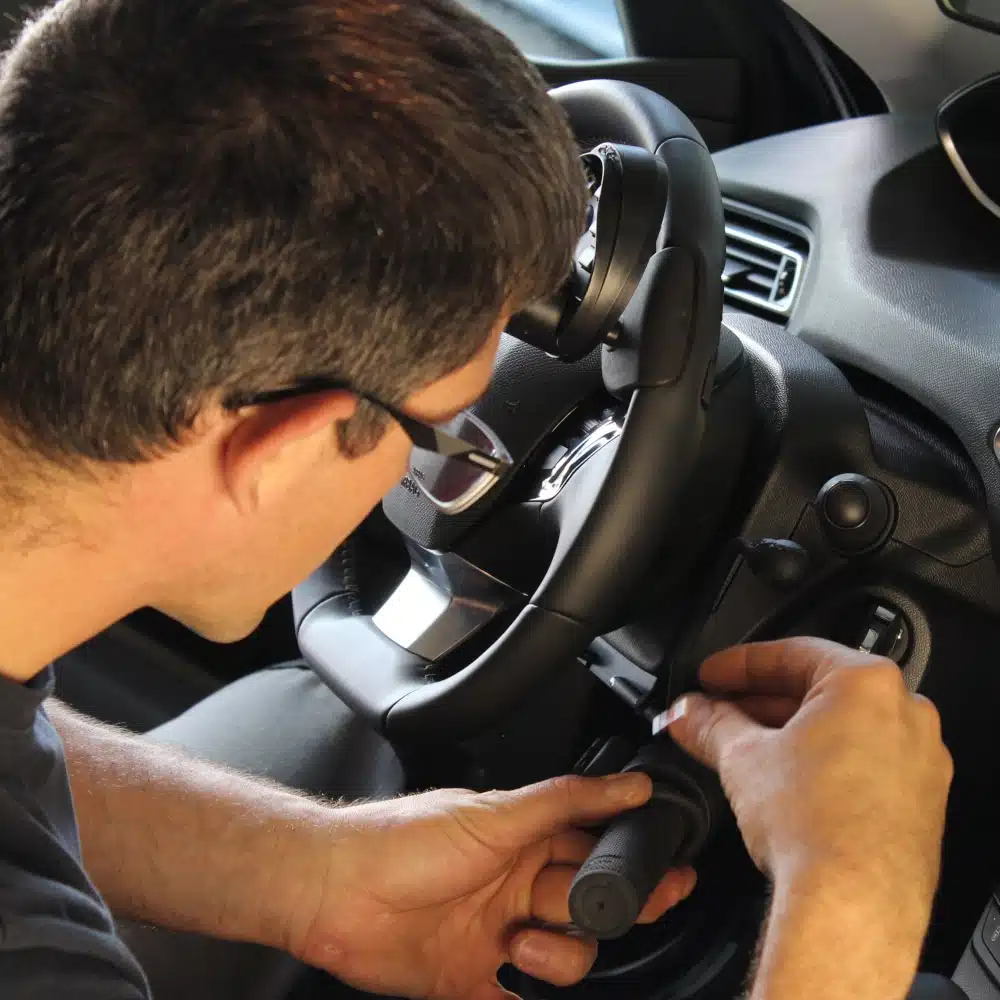 PRODUCTS
SOJADIS Equipment offers a full range of smart, secure solutions to adapt vehicles intended for drivers with reduced mobility or driving school retrofitted conversions.
Every SOJADIS Equipment innovation is designed and developed by an in-house Design Office specialising in state-of-the-art electronics and approved by many traceability tests and procedures. SOJADIS driving aid equipment combines simplicity, flexibility, reliability and safety and is today as popular with individuals as it is with professionals.
SERVICES
As a manufacturer AND an installer, SOJADIS Equipment understands perfectly the realities and demands of the business. To meet the needs and expectations of its partner installers, and thus guarantee the satisfaction of their customers, SOJADIS Equipment offers many services, including:
– ordering and online order tracking by telephone, e-mail or directly online
– choice of different delivery methods
– very short delivery times, from 24 to 72 hours
– dedicated assistance and technical support

TRAINING
To help them integrate with the SOJADIS Equipment partner network or when marketing new equipment, distributors/installers benefit from full training under the supervision of the Jallais workshop teams. This initial or on-going training is a chance for the SOJADIS Equipment partner installers to acquire both:
– perfect understanding of different driving aid systems
– technical expertise in installing equipment in vehicles
SUPPORT
The car industry is constantly changing and SOJADIS Equipment therefore supports its partner installers in expanding their day-to-day business and during events and business overhauls. For example, as part of the reform of the conversion procedure for driver teaching or learning vehicles, SOJADIS has supported its partner installers in their steps towards qualified Outfitter certification.
To support its partner distributors and installers, SOJADIS Equipment has set up a real professional network with a dedicated range of services. Discover also the SOJADISPRO tool, a complete and innovative solution for all our approved installers.
42 partner installers
spread across France.
62 companies - distributors/installers
in nineteen countries (excluding France) worldwide have already joined the SOJADIS network.
Contact us for more information and a full study of your project!